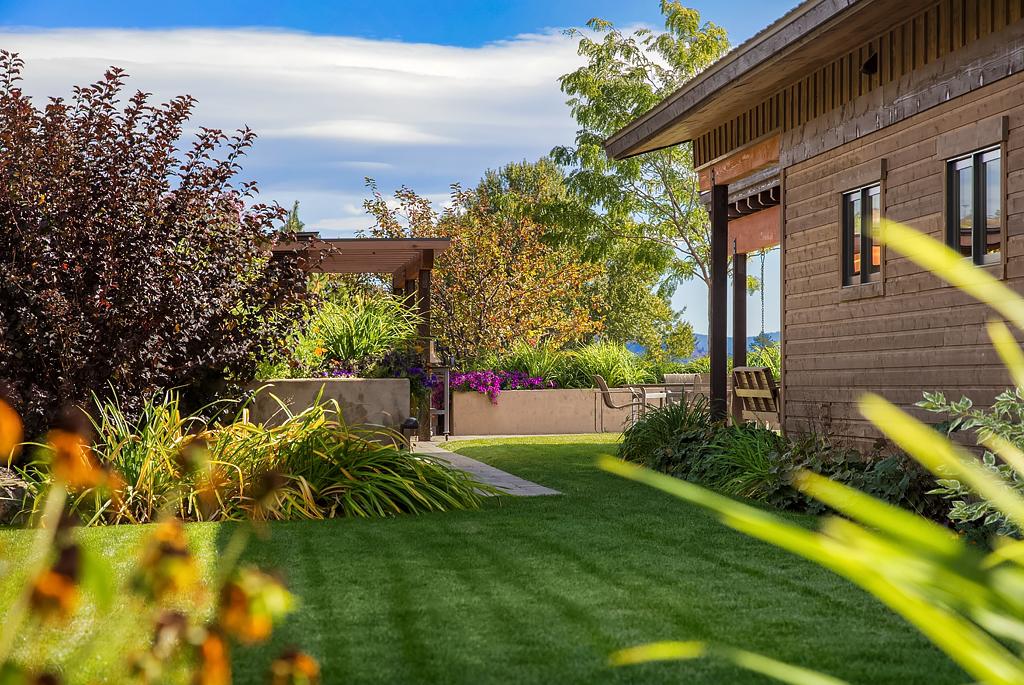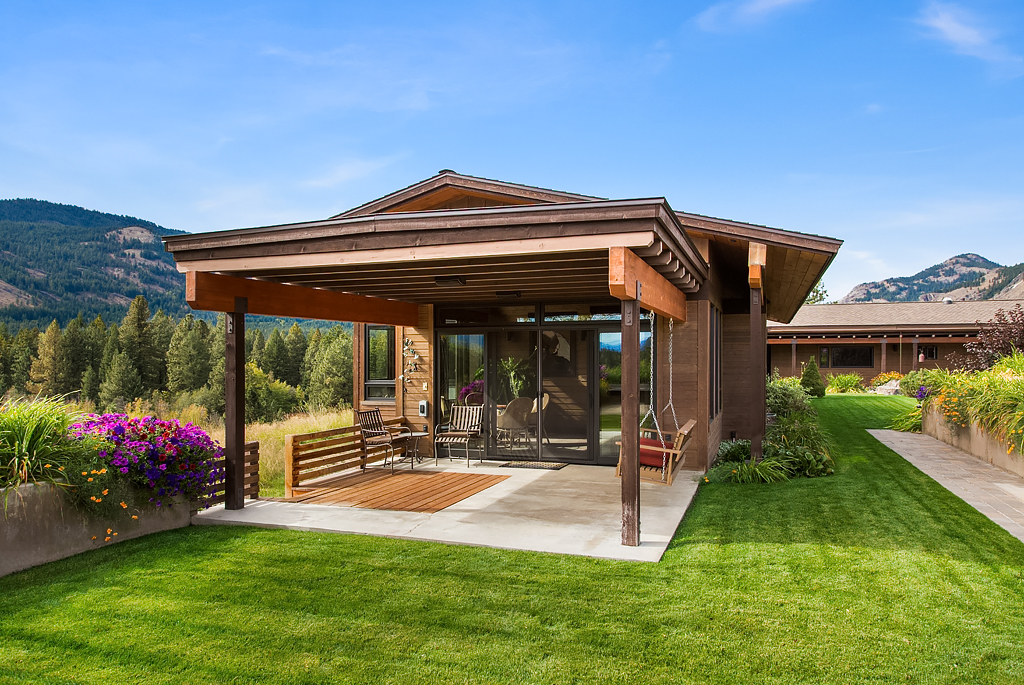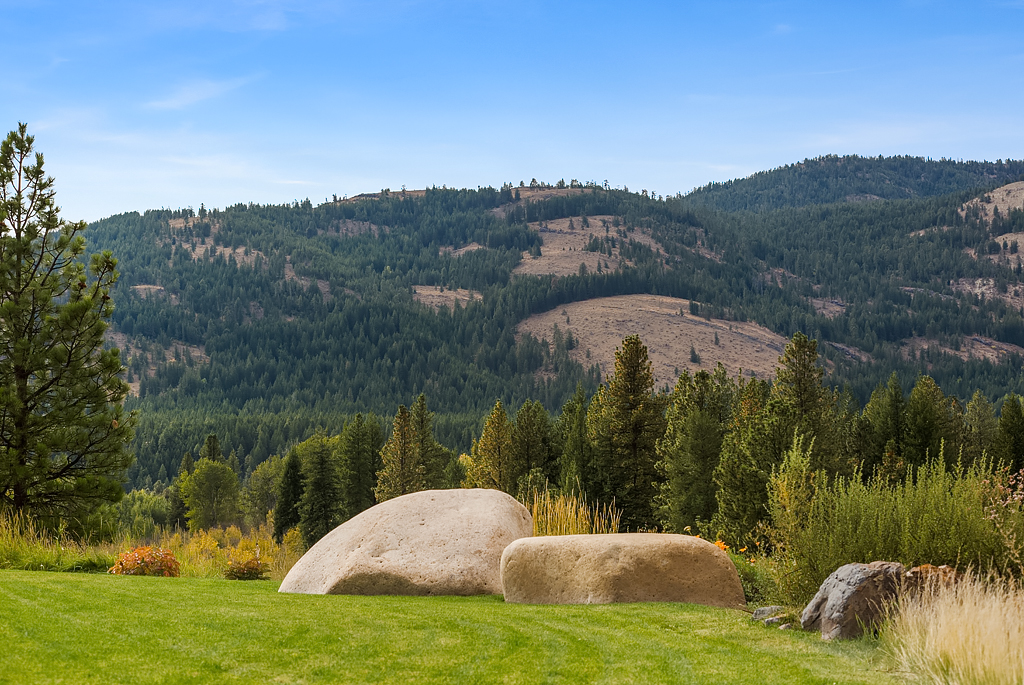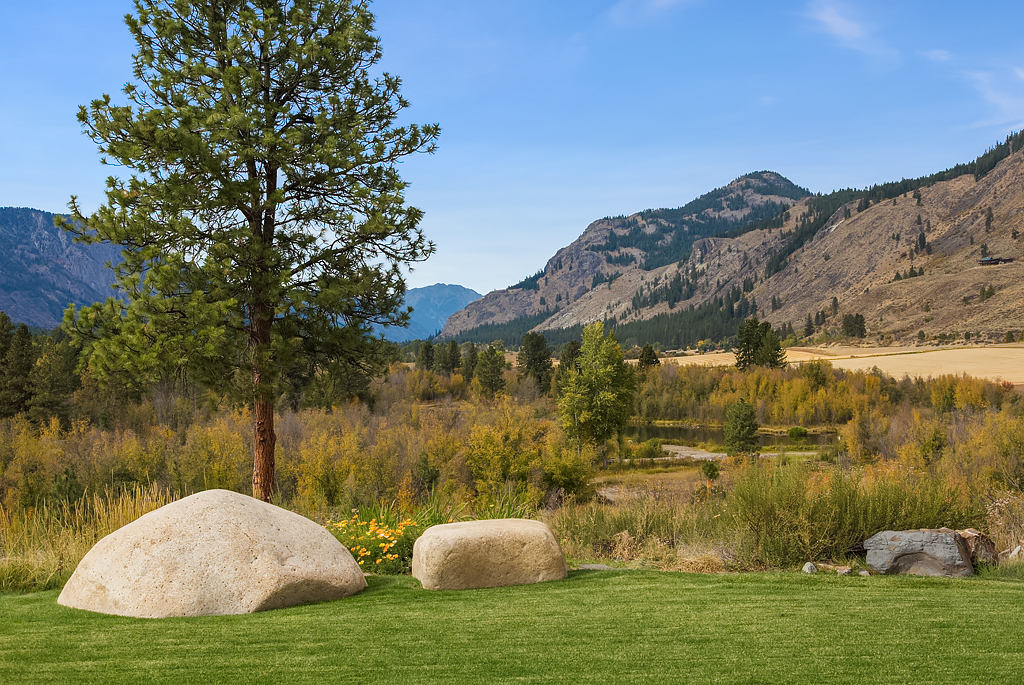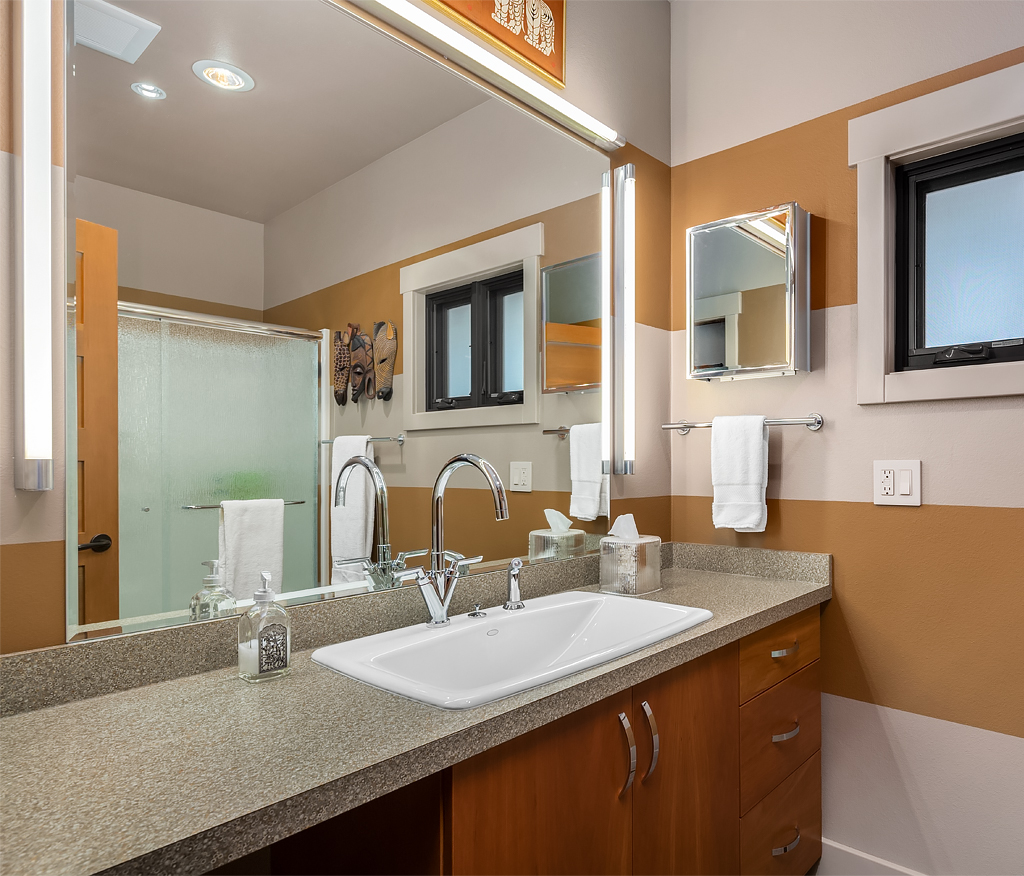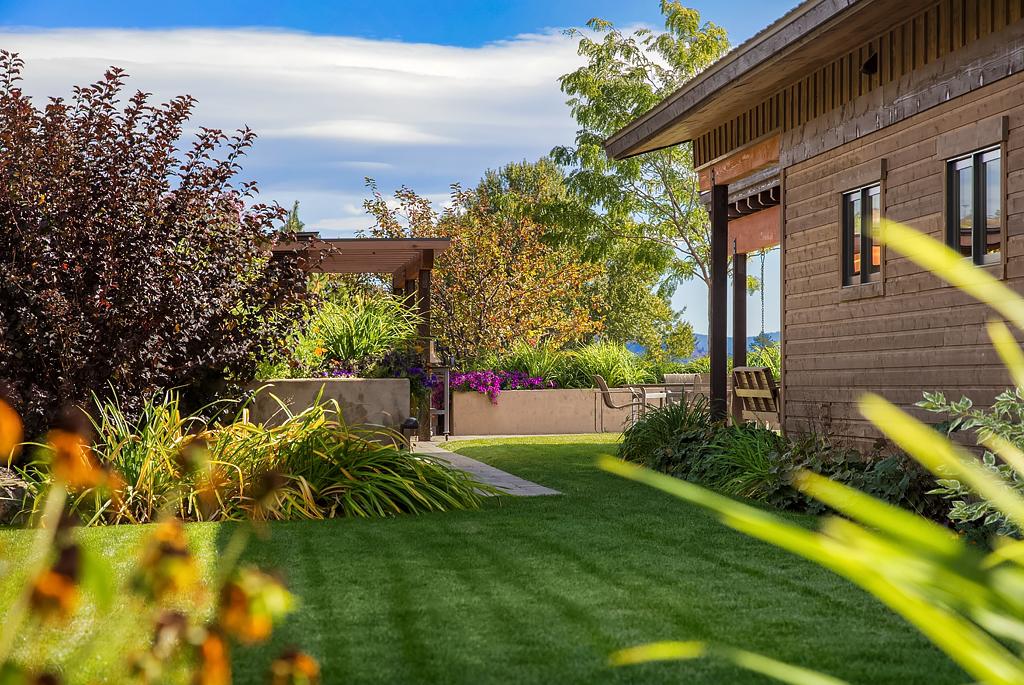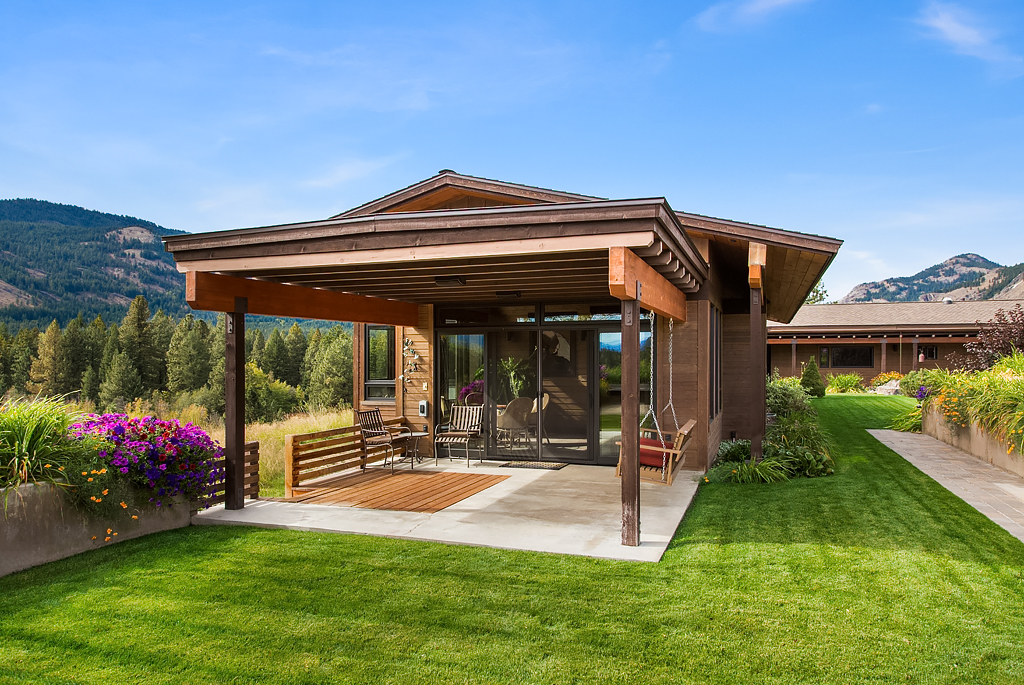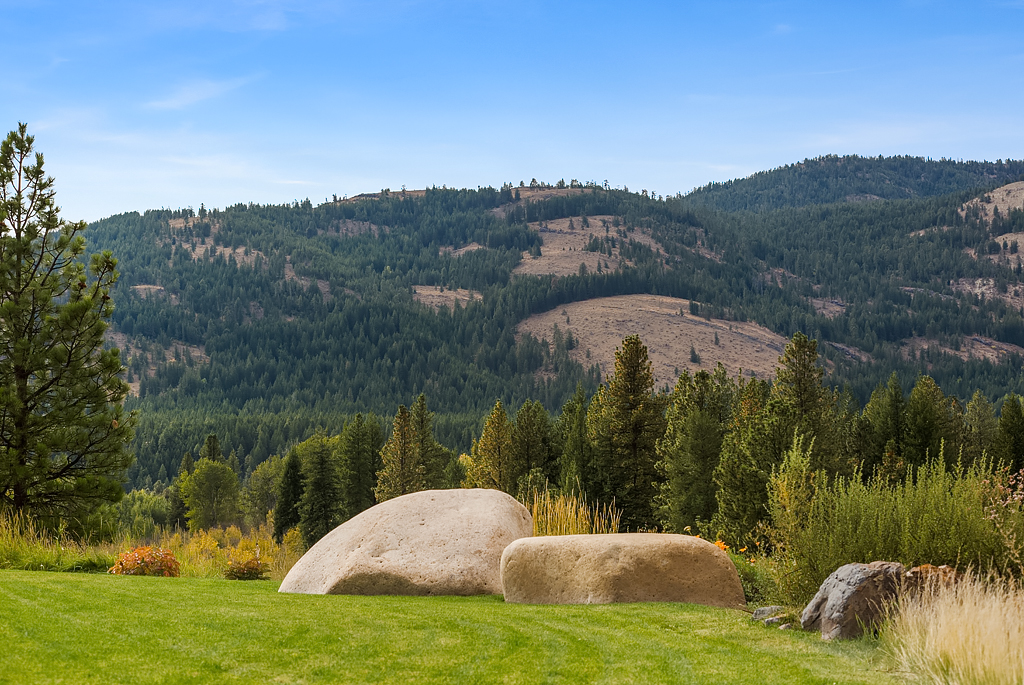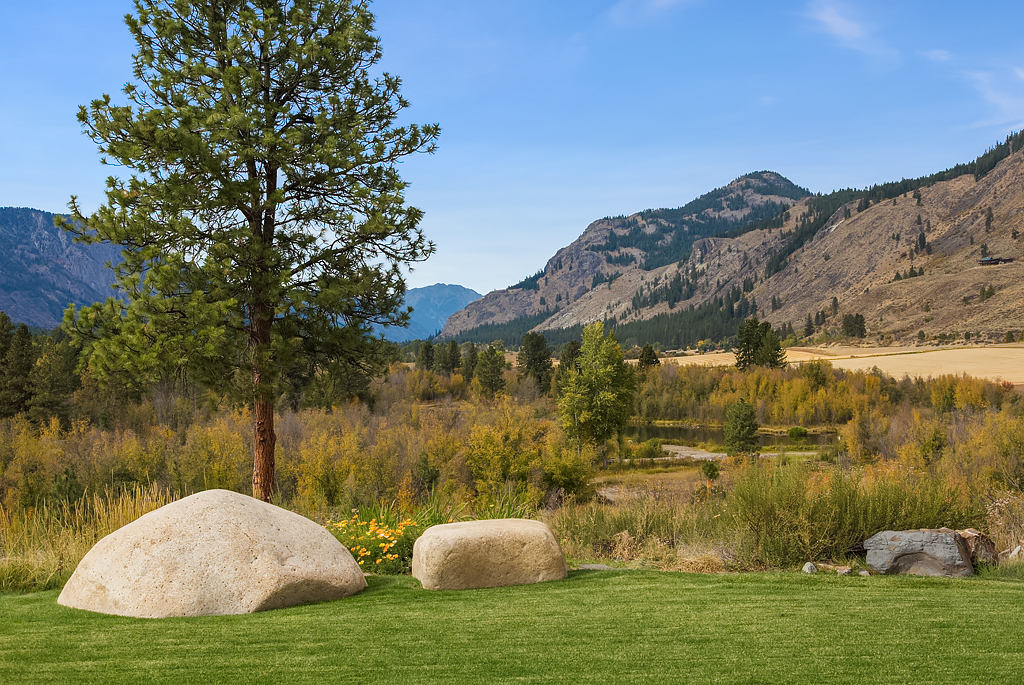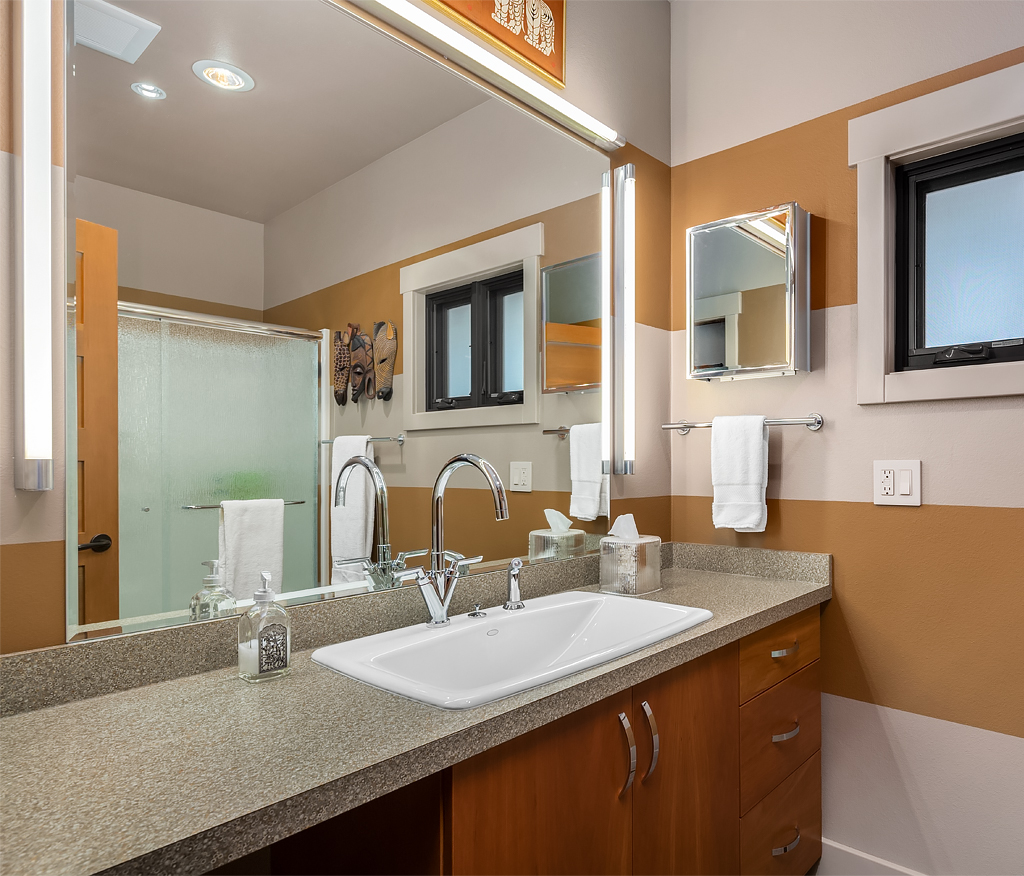 18XXX Highway 20 $3,500,000
5 Bedrooms
4 Bathrooms
4,562 Square Feet
Prentiss+Balance+Wickline Design
172 Acres
Dramatic Up Valley Views
>1 Mile of Methow River Frontage
Big Valley Ranch is a singular combination of spectacular siting, thoughtful and timeless contemporary design and meticulous attention to detail that define the property as one of the premier year-round properties available in the Methow Valley. Located just off the North Cascades Highway, the ranch offers commanding up valley views of some of the most unspoiled and natural pasture in the area, backed by dramatic vistas of the North Cascades and protected on all sides by state land and a 142-acre conservation easement. This is that rarest of estates that offers luxurious comfort and space, while still managing to convey a sense of modesty and appropriateness in the face of Nature's astounding natural beauty.
+ OVERVIEW
A gravel drive winds from the Cascade Highway to the entry courtyard around which the residence is constructed, capturing stunning views of the surrounding lands, hillsides and North Cascades mountain range in the distance. The house presents a low profile, sheathed in native cedar with deep roof overhangs for shelter from the snows that make this region one of the great cross country ski and winter sports havens of the country. The exterior combines modern building design with honest local materials creating a low-slung aesthetic that is evocative of the region's historic architecture, yet timelessly contemporary.
A modified L-shaped floor plan naturally defines public, private, and guest spaces with an effortless sense of flow and continuity that is centered by a great room with attached kitchen, and then branches out to include a dining area in its own windowed corridor, master wing and guest wings. Each side of the house includes porch and patio areas for outdoor enjoyment and natural air flow while terraced, board-formed concrete planting beds create multiple levels for gardening. Native plants compliment the surrounding countryside and further blend this singular residence into its environment.
Despite its grand scale and voluminous rooms, Big Valley Ranch maintains a very approachable sense of modesty and casual elegance – the result of a careful collaboration between its owner and Balance Architects (now partnered with Geoff Prentiss to form Prentiss+Balance+Wickline). The design goals were to create a series of linked spaces that would flood the home with natural light and frame vistas of the surrounding acreage while affording autonomy for owners and guests, alike. Using a simple palette of dark-stained fir for trim, mixed-width wide-plank oak flooring and slab cherry for built-ins and casework, the design team created light-filled interiors that evoke the colors and textures of the surrounding terrain. Natural stone tile is used in high-traffic areas and as surrounds for the fireplaces, while carefully selected, artisanal tiles feature in each of the home's four baths and kitchen backsplashes.

+ GREAT ROOM
Entry to Big Valley Ranch is via a graciously-scaled and low-slung foyer that allows views through to the property and Cascades beyond. The ceiling is beamed and car decked to afford a sense of intimacy that then opens to reveal the spacious living room with its high ceiling and clerestory windows. This central room provides a brilliant frame for the jaw-dropping views surrounding the home and sets the stage for more specific framing elements in the other wings. The living area is wrapped on three sides by vast picture windows with large clerestory units above to capture majestic vistas and restful sky views. A large screened porch directly off the living room is the perfect place for afternoon relaxation during warmer times of the year and overlooks one of the property's three ponds.
An expanse of windows across the back wall is only interrupted by a fireplace with a raised hearth and bench running across the entire wall and clad in native stone. Across the room, a wall of custom built-ins helps define an informal dining area off of the kitchen.
Just off the living room sits an open gourmet kitchen, suitable for the most devoted chef. All cabinetry is custom made from slab cherry with modern bronze hardware, and a peninsula provides casual seating for four around the range area. Appliances are all GE Monogram and include two built-in refrigerators, a 36" propane range with electric oven, an additional wall oven, dishwasher and wine refrigerator. The room is laid out to provide a spacious and casual hub of the home – a place where family and friends can gather to prepare and enjoy meals, but also a high-performance workspace for large-scale catered events.
The kitchen leads through to a spacious dining room corridor that is glassed in on either side with ventilated picture windows overlooking the entry and creek. Like the entry, the ceiling is beamed and decked in natural cedar to create an enhanced sense of intimacy and better focus attention on the vast countryside beyond. This area can easily accommodate a large dinner party and is also a wonderful space for casual enjoyment and discussion. Floors are tiled in large format porcelain for durability and ease of maintenance, and a glass door opens onto a private covered dining deck that overlooks the property's creek and three ponds.
The dining room flows gracefully into the master wing of the house, a private enclave that contains a laundry room, home office, his and hers baths with walk-in closets and an expansive master bedroom.
The laundry room is a deep space that is fully outfitted with custom cabinets and built-ins to facilitate easy organization and airing of clothing and includes a large wash sink and Whirlpool Duet front-loading washer and dryer under full-length counters.

+ MASTER SUITE
The master bedroom is a peaceful retreat surrounded by walls of windows that flood it with natural light and frame views of the Methow Valley beyond. The bed is built in to a custom partial wall that allows it to easily occupy the center of the room for passage and enhanced views. A private sunroom is accessed from the back corner of the master and is a delightful, climate controlled space from which to enjoy the scenery. This room opens out to a covered patio that is fully plumbed and wired for a hot tub and which also features a hanging porch swing for languid afternoons spent taking in the landscape.
Around the corner from this area, lies the first of two master bathrooms, with stone floors, a large walk-in shower, custom cherry and quartz vanity and ample built-ins for storage and display. This room opens into a huge, walk-in closet with additional built-ins and counter space.
On the other side of the bedroom, a door opens to the second master bath – this one featuring a full wall of cabinets and counter space for makeup, storage and admiring the view. Surfaces include porcelain floor tiles and a counter made up of gorgeous opalescent glass tile, while the water closet is centered on one of the windows to afford a glorious view. Just off the bath is another spacious walk-in closet.
The hall around which the master wing is oriented contains numerous built-ins for linens and storage, and leads to one of two offices in the house. This room is surrounded by windows that overlook the entryway and is outfitted with built-in cabinets and a desk. It is sufficiently spacious to serve as additional sleeping space, should the need arise.

+ GUEST WING
The guest wing of the house is accessed directly off the entry foyer. It can easily be closed off for privacy by a single door, or left open for easy flow to the media room and library just off its entry hall. This substantial space includes a wall of bookcases and a custom island that houses television and media equipment to facilitate easy passage and comfortable viewing in a warmly enveloping atmosphere with built-in speakers for surround sound.
Directly across from the media room, the second office provides a full wall of built-in desk space that overlooks the entry courtyard. This is ideally situated in the house to afford autonomy and privacy for day-to-day business activity and is suitable for the owner who wishes to maintain easy contact with professional interests in the outside world.
Continuing deeper into the guest wing, three additional bedrooms are arranged along the hall and share two baths, as well as a dedicated laundry area. The larger two of the three guest rooms boast floor-to-ceiling windows that frame dramatic up valley views over the property, while the kids' bunk room can easily sleep three. One of the baths features a walk-in shower and bassinette sink, while the other is opulently appointed with a two-person jetted soaking tub, surrounded by elegant pearlescent tiles and includes a vanity with quartz counter.
Deep, built-in storage closets abound, providing plenty of long-term and seasonal storage options in every area of the house. Custom lighting throughout is designed to afford spotlighting for art and collections, as well as adjustable ambient light, and the house was oriented to follow the winter sun as it traverses across the sky.

+ GARAGE & MECHANICAL
The garage area functions as a fully finished and heated utility wing of the house, offering a spacious and private car parking area, a large workshop and a very generous additional two car garage area that is suitable for utility vehicles and grounds keeping equipment. In addition, a convenient lavatory is plumbed in for the shop area, allowing for the potential conversion of all or part of this wing into a caretaker's suite. Comfort systems include a propane-fueled heating plant and central air conditioning.

+ PROPERTY & GROUNDS
Over the years, the family has proven to be great stewards of the land, selling 800+ acres to the state as public land and setting aside 140+ acres in a conservation easement to ensure the long-term future of the surrounding countryside.
The grounds include three ponds that are connected by a creek, the mother pond spring-fed for a steady supply of year-round water. The property as offered consists of 172 acres in total, 142 of which are protected in perpetuity by a conservation easement, and 30 of which are open for further improvement.

+THE METHOW VALLEY
Big Valley Ranch sits in one of the most breathtaking spots in the Methow Valley of Okanogan County, Washington's most popular year-round recreational area, and an extraordinary oasis of unspoiled natural beauty in the foothills of the North Cascade Mountain Range.
The towns of Winthrop and Mazama are the ranch's closest neighbors, and they offer an eclectic mix of Old West aesthetics, coupled with modern amenities and a wide range of cultural and outdoor activities. The Methow Valley is a year-round residence for an increasing number of people seeking more natural surroundings and an outdoor lifestyle. As such, the area boasts a wide variety of cultural and arts organizations, as well as a growing range of entertainment and dining options that include numerous restaurants, breweries and galleries, as well as extraordinary resort properties such as Sun Mountain Lodge and the Tom Kundig-designed Rolling Huts.
Popular events include annual hot air balloon, rhythm and blues and chamber music festivals, as well as numerous holiday events and the Winthrop Rodeo. The region is within proximity of the burgeoning Yakima Valley wine country and Lake Chelan, and is about a four-hour drive from the Seattle metropolitan area and Vancouver B.C.
With over 120 miles of groomed cross-country ski trails, the Methow Valley is the nation's largest Nordic skiing location, but also offers alpine skiing, snowshoeing, sledding and snowmobiling for the dedicated winter sports enthusiast. This unique network of trails is also accessible during the fall, spring and summer months for mountain biking, hiking and trail running, making the Methow Valley a world-class and renowned outdoor recreation destination throughout the year. Nestled in the North Cascades, the area also offers incredible climbing and hiking opportunities, while popular summer activities include golf, fishing, road cycling, horse-back riding and river sports, not to mention the simple pleasure of sight-seeing. The area is a pristine natural paradise that is open and accessible year-round for escapes that range from the laid-back and relaxed to the most strenuous and exciting.
Whether used as a full-time residence, or as a prized vacation escape, Big Valley Ranch offers brilliantly rigorous design that is optimized for its rural location, coupled with sublime comfort and luxury that belie its origination as a working ranch. It embraces the modern while not turning its back on materials and forms native to its region, and creates a sense of place that is both authentic and full of wonder. This is country living that is both honest and evocative of its regions history, with an equal level of respect and deference to the future.
+概述
Big Valley Ranch
ABSTRACT 摘要
Big Valley Ranch拥有壮观的选址,细致且永恒的当代设计,一丝不苟的细节,将其定义为梅索谷(Methow Valley)全年房产中首屈一指的房产。毗邻北卡斯卡德(North Cascades)高速公路旁,该牧场提供了该地区未受污染的天然牧场和山谷景色,由北卡斯卡德(North Cascades)的戏剧性景观作为背景,在各方面受到保护的国有土地和142英亩的保护地役权。这是一间最稀有的房产,提供豪华舒适性和空间,与此同时,在惊人的自然秀丽面前仍可传达谦逊和适当的感觉
OVERVIEW 概述
北卡斯卡德(North Cascades)高速公路直达建造住宅的入口庭院,可以欣赏到周围土地、山坡和远处北喀斯喀特山脉的壮丽景色。房子呈现出低调的外观,被雪松覆盖着的积雪屋顶,使这一地区成为国家最著名的越野滑雪和冬季运动的天堂之一。外观将现代建筑设计结合诚实的本地材料,营造出低调的审美感,这是该地区令人回味的历史建筑,也是当代的永恒。
改进的L形平面图, 自然地划分出公共、私人和客人空间,配以毫不费力的流动性和连续性的感觉,以附带厨房的美丽房间为中心,之后分化出带有自己窗户走廊的用餐区、主卧和客房。房子的每一侧包括门廊和露台区域,可享受户外气息和自然地气流,及梯田,板形混凝土种植床创造的多层次园艺。原生植物为乡村的周边添加了生机,进一步融合了这一独特的住宅环境。
尽管它规模宏大,带有多间房间,Big Valley Ranch保持一种极为平易近人的谦虚和休闲优雅的感觉 -它是所有者和Balance建筑师(现在与Geoff Prentiss合作形成Prentiss + Balance + Wickline)的精心之作。其设计目标是创建一系列的链接空间,使这座房子布满自然光和周边种植地区的景观,同时为业主和客人提供自主权。使用简洁深色冷杉调色板作为内饰,混合宽橡木地板和板樱桃作为内置和个案。设计团队创造了为室内提供了充足的光线,唤起周围地形的色彩和纹理。天然石材瓷砖用于高流量区域内,并环绕壁炉。每间房屋的四个浴室和厨房后挡板均使用了经过精心挑选的手工瓷砖。
  GREAT ROOMS 美丽的房间
通过宽敞,低调的大门进入Big Valley Ranch,可以观赏到住宅及卡斯卡德(Cascades)远处的风景。横梁天花板和汽车装饰营造出了一份亲密感,穿入,进入高顶天花板和窗户的宽敞客厅。该中央房间提供了一个令人瞠目结舌的辉煌景色,围绕着整间房屋,并为另一处的细节元素设置了物体。起居室三面被巨大的窗户包裹着,上面配有宽敞的窗户和大型水晶装饰,可以捕捉雄伟的景观和宁静的天空景色。大型遮蔽式门廊直接连接至客厅,这里是一年中温暖时节下午小憩的理想场所,并且可以俯瞰住宅三个池塘中的其中一个池塘。
延伸的窗户穿过后墙,仅被一个壁炉从腰折断,升高的壁炉和长凳横跨整个墙壁并包裹在产自本地的石块中。穿越墙壁,定制的内置墙协助创建了一个非正式的厨房用餐区。
在起居室设置了一间美食厨房,最适合热衷于烹饪的人士,所有定制橱柜由从板樱桃与现代青铜五金制成,台面四周由休闲式座椅环绕着。电器均为GE Monogram,其中包括两个内置的冰箱,一个36"丙烷范围电烤箱,并附有一个额外的壁炉、洗碗机和葡萄酒冰箱。房间的布局提供了一个宽敞且休闲的家庭中心 – 是家庭及朋友聚餐的理想处所,而且还是举办大型聚会活动的高性能工作区。
厨房通至一个宽敞的走廊,两侧镶有玻璃,通风的图画窗口俯瞰着入口和小溪。犹如入口,天花板的横梁和甲板掩藏在自然雪松之下,创造出一种加强的亲密感,更好地将注意力集中在广阔的乡村之外。这个区域可以轻松容纳大型晚宴,也是休闲享受和讨论的美妙空间。地板瓷砖为耐用且易于维护的大型瓷器,玻璃门通向一个私人遮盖式餐厅,可俯瞰住宅的小溪和三个池塘。
餐厅优雅地融入住宅的主要区域,一个私人的空间,包括洗衣房、家庭办公室、及他和她配有步入式衣柜的浴室和宽敞的主卧室。
洗衣房具有很深的空间,里面配置了定制的柜子和内置设施,以方便整理及衣物晾干,其中还包括内置于全长台柜内的大型洗涤水槽和Whirlpool Duet前装式洗衣机。
  MASTER SUITE 主卧
主卧室一个宁静的休息之地,被满墙的窗户包围着,撒放着自然的光芒和梅索谷(Methow Valley)之外的景色。主卧室的床为定制款,镶嵌在部分墙壁内,减少了占据的空间,并增强了景致。私人日光浴室可从主卧的后方进入,这里是一个让人愉悦,又可控制气候的空间,是享受风景的最佳地点。这间客房可通往带顶棚的露台,完全通风且连至热水浴缸,这也有一个悬挂的门廊秋千,让你在园景中懒洋洋地渡过一个下午。
在这区域的角落附近设有两间主浴室,石头地板,大型的步入式淋浴间,定制的樱桃和石英梳妆台及用于储存及展示的充足内置空间。该房间通向一个大型的步入式衣柜,配有额外的内置及柜台空间。
在卧室的另一边,有一扇门可通往第二间主浴室 – 这一间房间的整面墙为化妆、储存及欣赏风景提供了全套橱柜和台柜。表面包括由瓷地砖和华丽乳光玻璃瓷砖组成的台柜,同时水橱集中在一扇窗户的中央,以提供美丽的景色。刚好在浴室另一侧是另一间宽敞的步入式衣柜。
主卧一侧的大厅包含了许多用于储存床单和物品的内置空间,并通向住宅其中一间办公室。这间客房被窗户环绕,可俯瞰入口,并配有内置橱柜和一张书桌。它有足够宽敞的空间,在需要时可作为额外的睡眠空间。
GUEST WING 客房
客房直接通向入口大厅。带有单独的入口,可作为私人空间,亦可敞开,方便通向位于入口大厅的媒体室和图书馆。该大型空间包括书柜墙壁和定制的台面,可放置电视和媒体设备,方便使用,并可以在一个温馨的氛围内舒适地享受配有内置环绕扬声器的精彩画面。
直接面向媒体室,第二间办公室提供了一个完整的墙壁内置桌面空间,俯瞰入口庭院。这是享受日常业务活动的自主权和隐私的理想位置,适合那些希望与外部世界保持简单专业联系的业主,
继续深入客房,三间额外的卧室沿着大厅排列开来,并共享两间浴室,及一个专门的洗衣区,三个客房中较大的两间配有落地窗,可以遥望住宅远处的壮丽山谷景色,而为儿童准备的双层床也可轻易地容纳三个人。其中一间浴室设有步入式淋浴间和洗涤盆,而另一间设有豪华的双人喷射式浴缸,由典雅的珠光瓦片包围,并包括一个石英柜台。
深层、内置的储物柜比比皆是,为房子的每个区域提供大量的长期及季节性存储选项。自定义照明设计为艺术和收藏品提供了聚光的效果,并可以调节周围的光线,而房间的定向跟随着冬日阳光的移动。
GRAGE & MECHANICAL 车库和 机械
车库具有完全成熟的性能,位于住宅的实用机构位置,提供了宽敞的私人停车场,大型工作室及宽敞的两车车库区,适用于多用途车辆和地面保养设备。此外,商店区还提供方便的洗手间,可以使此部分住宅全部或部分改为看护人套间。舒适的系统包括丙烷燃料供暖及中央空调。
PROPERTY & GROUNDS 物业和土地
这些年来,家庭已被证明是土地的大管家,向国家销售800多英亩作为公共土地,并预留140 +英亩的保护地役权,以确保周边乡村的长远未来。
土地包括由小河连接的三个池塘,主要池塘储存春季降水,稳定供应全年用水。该房产总计占地172英亩,其中142英亩受保护地役权的保护,其中30英亩可供进一步改进。
THE METHOW VALLEY 梅索谷(Methow Valley)
Big Valley Ranch sits in one of the most breathtaking spots in the Methow Valley of Okanogan County, Washington's most popular year-round recreational area, and an extraordinary oasis of unspoiled natural beauty in the foothills of the North Cascade Mountain Range. Big Valley Ranch坐落在奥卡诺根县的梅索谷(Methow Valley),是最激动人心的地方之一,华盛顿最受欢迎的全年休闲区,附有North Cascade山脉未受污染的自然美景及非凡绿洲。
温斯罗普(Winthrop Winthrop)和马札马(Mazama)城镇是牧场的近邻,他们提供老西部的折中美学,加上现代化的设施和各种文化及户外活动。梅索谷(Methow Valley)是越来越多寻求更多自然环境和户外生活方式的人的理想住宅。因此,该地区拥有各种各样的文化艺术机构,以及越来越多的娱乐和餐饮选择,包括许多餐馆,啤酒厂和画廊,以及非凡的度假酒店,如Sun Mountain Lodge和Tom Kundig设计的滚木屋。
热门活动包括年度热气球、节奏和蓝调和室内音乐节,以及众多节日活动和温斯罗普圈地。与该地区毗邻的是新兴的雅基马谷葡萄酒之乡和奇兰湖,距离西雅图大都市区和温哥华市中心约4小时车程。
拥有超过120英里的修剪越野滑雪道,梅索谷(Methow Valley)是全国最大的北欧滑雪地点,而且还为冬季运动爱好者提供了专用的高山滑雪,雪鞋,雪橇和雪地摩托。这种独特的小径也是秋季、春季和夏季进行山地自行车、远足和越野跑的理想之地,使得梅索谷(Methow Valley)成为世界一流且贯穿全年的著名户外休闲目的地。该住宅坐落在北卡斯卡德(North Cascades),提供了令人难以置信的攀登和徒步旅行机会,与此同时受欢迎的夏季活动包括高尔夫球、钓鱼、公路自行车、骑马和河流运动,更不用说观光的简单快乐。该地区是一个开放的原始自然天堂,,可全年探访,从悠闲和轻松到最激烈及令人兴奋的探险。
无论是作为全日制住所,或作为珍贵的假期逃逸,Big Valley Ranch提供了出色的严格设计,优化的乡村位置,加上崇高的舒适和奢华,掩饰了其作为一个工作牧场的起源。它拥抱现代,而不是专注现代的物质材料,其形成了该地区的原始风格,并创建了一个充满真实和奇迹的地方感觉。这是乡村的生活,该地区的历史既诚实又令人回味,附有同等程度的尊重及对未来的遵从。